Call the girls. We've got a party to plan.
One that will have you and the besties reminiscing long after the quesadillas are gone.
It's Cinco de Mayo, friends! And if you think we're about to deny a girl of margaritas and bomb queso, think again. You should know we'll be taking ours on the rocks. Yeah?
The first call to action? Embroidered tops and simple stitched jeans.
Inspired by southwestern influences and comfort stretch, these are jeans we can easily see ourselves enjoying extra guac and salsa in.
And by salsa, we don't mean the condiment.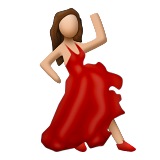 Making a good pair of dancing shoes our #2 priority.
Dialing Faryl Robin in for this one.
These shoes have us thinking that a 3 1/2 inch heel is just enough to flirt with before letting our balance fall victim to a blister-induced wobble.
Meaning, we can't really remember a time we were opposed to lace-up booties with a chunky heel – or GNO.
But no party is a real party without the festive decorations, and these chokers can substitute as the piñata themselves.
At #3, this multi-pack is the party favor we've been looking for. Perfect for accessorizing the whole squad, it really only leaves one thing up for debate…
Which Mexican restaurant will you and the girls hit up first?